The Ultimate Underdog Mikey Whipwreck Completes the Legends Expansion IV Roster!
Categories: Legends of Wrestling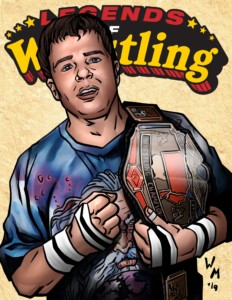 One of the ultimate Rags to Riches stories in wrestling comes to the next Legends set.  Mikey Whipwreck was an undersized wrestler who got a shot in one of the hottest promotions in the 1990's and made the most of it, winning all three of the promotions titles in his tenure there.  What he lacked in size he made up for in heart and wrestling ability and was a huge fan favorite in his prime.  Legends fans will look forward to recreating his epic feuds with the Sandman and Justin Credible, and they'll find out just how much punishment Whipwreck can take before possibly pulling off another upset!
Mikey Whipwreck joins Abdullah the Butcher, Shane Douglas, Killer Kowalski, Sandman, Steve Corino, Justin Credible, Al Snow, Bull Curry and Ox Baker in the 10-card Legends Expansion Set 4.  This game edition, along with Special Edition cards for Francine and Bill Alfonso, will debut July 13 at GalactiCon in the Philadelphia area!  The game will begin mailing to customers by July 22.  These games and the latest Champions of the Galaxy game edition, Sudden Death 2135, are available to preorder right now!