From Beyond the Grave it's Mil Muertes!
Categories: Uncategorized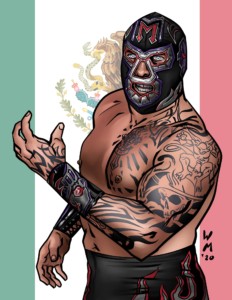 A true heavyweight luchador is looking win gold in your promotions! Mil Muertes will be looking to bring 1,000 Deaths to anyone who tries to stand in his way.  Mil Muertes has been a force on the Mexican wrestling scene for over a decade and has recently gotten a big following in the US due to his national TV appearances.  With his brawling and bruising style, he will surely be looking to inflict grave consequences upon anyone who crosses his path.
Mil Muertes joins Daga, Flamita, Demus and Laredo Kid in the Best of Mexico 8-pack.  Preorders are now available for Best of Mexico, Legends Ladies Expansion II and Future Shock: Centra Wrestling Federation 2116!  To preorder now CLICK HERE.
Also Promoter prime for 2020 is now available to preorder. Q1 2020 for Indies Prime features cards for Gringo Loco, Sam Adonis and Mercedes Martinez.  To preorder any Promoter prime product CLICK HERE.
Preorders for all game editions will begin mailing by March 31st!