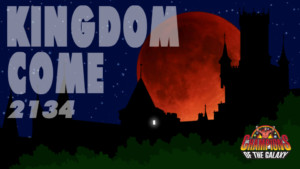 For the last several years in GWF time the universe has been shattered. First there was Black Death, then Future Shock, then the sudden emergence of a whole new star system, Castilex.
And now the answers are coming in KINGDOM COME 2134: Mysteries Revealed.
Shockers await as the GWF will be turned upside-down amid the coming together of forces too powerful to contemplate.
What will be the fate of Sly Drury? Which people in the GWF will suddenly depart and which will totally disappear? Which legendary GWF superstars will make their dramatic return and in what capacity?
Most important: What is the deep prophecy that Eydilon and others claim they have foreseen coming in 2134?
The best is yet to come! Keep watching for teasers coming in late May. And make plans to attend GalactiCon 2018 in Pittsburgh on July 13-15 for the official exclusive release of KINGDOM COME 2134! Pre-orders for game fans unable to attend GalactiCon will begin mailing around the same time.
KINGDOM COME 2134: Mysteries Revealed is coming in a few short months. Prepare yourself for the epic grandeur that awaits!