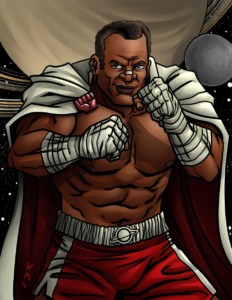 Look out for some TKO action as legend BILLY JO BOXER will get his new color card in the upcoming INVASION 2088 game!
BOXER is not only a singles star, he also formed a legendary tag team called TitanPower with none other than Lord Nexus!
Now is the time to re-visit some classic feuds like BILLY JO BOXER and Lord Nexus against Invincible Krakan and Ghengis Khan!
Don't miss the new INVASION 2088 game pack plus handbook. This holiday season will be our best ever!