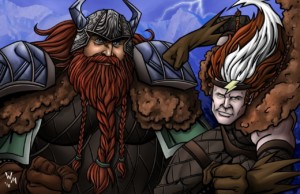 The holiday season is going to be a smash this year with our amazing game releases!
It all starts with the sensational full color re-release of the classic first expansion in Champions of the Galaxy history—INVASION 2088! There's playing cards for legends BISHOP HELL, SPIKE, MESMER, and many more who have gone on to be hallowed names in GWF lore.
Our first sneak peak of game art (courtesy of Werner Mueck) is the NORSE GODS, Man-Mountain and Lightning! More sneak previews in the weeks ahead so keep watching!
Also coming this December:
LEGENDS EXPANSION PACK 3 – Featuring more classic wrestling cards for your LEGENDS game promotion! Watch for previews in the days and weeks ahead.
RING OF HONOR: DEATH BEFORE DISHONOR – This game pack will add awesome new cards to your RING OF HONOR game promotion!
KINGDOM COME 2134: UPRISING – A new 4-pack from Tom that continues the epic Kingdom Come story arc!
PLUS another release that will be a surprise for now (but hint: you'll love it!).
We're so busy with so many projects that we need to delay the release of the Legends Ladies game pack until early next year. Sorry and thanks for your patience. That's the price we pay for loving to stay busy!
THIS HOLIDAY WILL BE ONE OF OUR BEST EVER WITH AMAZING RELEASES FOR THREE OF OUR GAME LINES (COTG, LEGENDS, AND RING OF HONOR).
Watch for sneak previews and get psyched!