The Inhuman PCO Shocks the Ring of Honor Roster!
Categories: Ring of Honor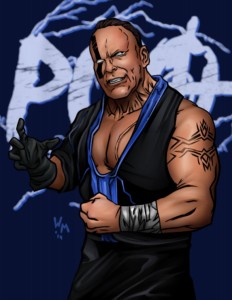 In the 1990's French Canadian wrestler Pierre Carl Ouellet was winning gold in major international promotions.  In the 2000's he returned back to home to wrestle in the French Canadian indies before ultimately retiring from the ring in 2010.  However, a few years ago PCO returned to wrestling, but in a very different form.  Not only had his career been resurrected, but now it appears that he himself may have been resurrected from the dead!  PCO now stands for Perfect Creation One, and the monster-like being has show inhuman strength both in the squared circle and outside of it.  Many videos have surfaced online of the mysterious figure Destro torturing PCO and demonstrating incredible feats of strength, which have only intensified his lore.  Now PCO has joined Ring of Honor as part of Marty Scurll's Villain Enterprises, and there is no telling what kind of destruction awaits members of the ROH roster.
PCO leads off the roster for the Ring of Honor Supercard of Honor 8-pack.  This game edition will begin mailing in late May.