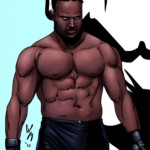 The invasion is on!
Game cards rolled in on Thursday and when new cards arrive it's always an exciting time at Federation HQ! DARK MENACE FORCES has the added bonus of the image of the Dark Menace forming a background puzzle when the cards are put together. It's hard to see the image unless you see it at a distance (a figure/ground illusion) and it's really cool!
I also wanted to play some matches to see how the Forces would fare. I pulled some cards at random from Ring of Honor, Chikara, and National Pro Wrestling Day packs and here are some results:
Michael Kai Rayne used his finisher RAYNE OF PAIN to defeat Shane Hollister. He also fought a great match against Colt Cabana which could have gone either way but the ever aggressive Michael went too far and suffered a DQ loss. No problem, I blame the referee! These guys don't want Dark Menace Forces to obliterate every promotion they enter but TOO BAD…it's going to happen anyway!
Rex Havoc picked up a huge win over 2 Cold Scorpio! There's no stopping Rex when he enters your promotion! He fought a tough match against Mike Quackenbush but succumbed to QUACKENDRIVER III.
Laura Phoenix scored a couple wins, one over Saturyne with her finished AD CINEREM. She also won over Daizee Haze. She had trouble against Sara Del Rey, scoring losses against both of Sara's cards. There's going to be a rematch!
I used Luscious Rocky Reynolds and Black Sheep Benett Cole as the tag team Criminal Justice. They picked up a win over Green Ant and Fire Ant and another win over Team F.I.S.T. (Chuck Taylor and Johnny Gargano). Both times Reynolds finished off the opposition with his finisher SWANTON BOMB. Their winning streak was stopped by the Briscoes but not by pin as the wild Benett Cole suffered a DQ against Mark Briscoe!
The nefarious Dark Menace is a huge distraction at ringside, pulling all kinds of cheap tricks with his trusty cane. It's a big help to the Forces team to have a manager with Dark Menace's stroke on their side!
I'm having a blast because DARK MENACE FORCES can be used any way you want in any promotion you want! Plus the cards have the unique interlocking card design with no white borders—it's a Filsinger Games collectible!
Be sure to share your results on our message board and Filsinger Games twitter so we can see how you're using DARK MENACE FORCES! It's here NOW and it's mailing out so be sure to order so the mayhem in your promotions can begin!
Until the Dark Menace knocks out Jimmy Hart with his cane (unless Jimmy uses his megaphone first!)…