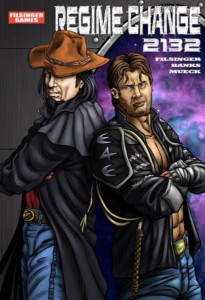 The cat is finally out of the bag!
After months of speculation the latest Champions of the Galaxy expansion has been released and it's big! REGIME CHANGE 2132 features the shocking return of SLY DRURY as he teams up with current legend, SHAYNE! These two tough hombres are aiming to take over the GWF.
Wait till you hear the story of Drury's return. Drury is not returning alone. He's bringing along PATCH, SKIVER, and IRON HAND. Yes, IRON HAND!
More surprises await you when you order REGIME CHANGE 2132. Don't hesitate. Champions of the Galaxy is hotter than ever in our big 30th Anniversary year!   Go here to order!