Reno Scum Are Featured Cards in February Promoter Prime!
Categories: Uncategorized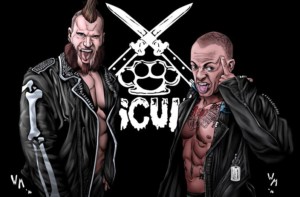 Stand out West Coast indie tag team Reno Scum, Adam Thornstowe and Luster the Legend, are the latest cards released as part of the Promoter Prime 2016 series. They are one of the premier tag teams in Northern California and Nevada, winning multiple championships. They are punk rockers with a hardcore style reminiscent of the Road Warriors.
While Luster mainly focuses on tag team action, Adam Thornstowe has also had singles success throughout the region. Now the tag team is starting
to get noticed on the national scene, even wrestling on a recent Ring of Honor event. How will they fare against the other standout tag teams in the Filsinger Games indie wrestling universe? You'll find out!
Promoter Prime is a subscription service, where each month game fans receive 2 digital playing cards in both PDF format and for use in the Filsinger Games online platform. The cards come from all product lines, including Legends of Wrestling, various independent promotions, and the Champions of the Galaxy game. To subscribe to the 2016 product visit here: