Rey Bucanero Joins His Uncle Pirata Morgan in Best of Mexico!
Categories: Uncategorized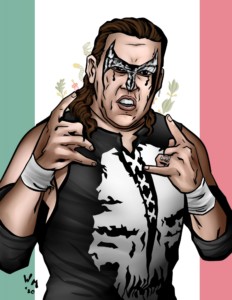 Another pirate is set to take over your promotions! Rey Bucanero is looking to make a splash as newest luchador debut in the Best of Mexico set.  Convinced to become a wrestler by his famous uncle, Pirata Morgan, Rey Bucanero began working smaller shows in the north of Mexico before wrestling consistently for Mexico's oldest promotion. Bucanero took off as a well regarded tag specialist, joining multiple famous trios teams throughout his career, and winning gold with many of them. He even teamed at times with his uncle and others as Los Bucaneros.  He ended up wrestling for some major US promotions as well.  Almost any stable in history could use a tag specialist of Bucanero's caliber. How will you book him in your promotion?
Rey Bucanero joins Mil Muertes, Daga, Flamita, Demus, Pirata Morgan and Laredo Kid in the Best of Mexico 8-pack.  Preorders are now available for Best of Mexico, Legends Ladies Expansion II and Future Shock: Centra Wrestling Federation 2116!  To preorder now CLICK HERE.  Preorders for all game editions will begin mailing by March 31st!