Rey Horus Completes the Lineup for the Best of Mexico set!
Categories: Uncategorized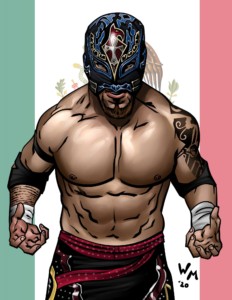 The 8th and final card in the Best of Mexico expansion set is one of the preeminent flyers in Mexico, Rey Horus!  While originally gaining notoriety in the indies in the Tijuana area, he quickly reached new heights and found himself wrestling all over the world.  While Horus has won singles gold before, his work as a trios wrestler has become his calling card. While he has teamed with many people, he is perhaps most known for his trio with Flamita and Bandido, who won the 6-man tag team title in Ring of Honor. That being said, Horus has also feuded with Bandido and had multiple classic matchups against his tag partner. Will they face off in your fed, or put their differences aside to chase gold? The choice is yours!
Rey Horus joins Mil Muertes, Daga, Flamita, Demus, Pirata Morgan, Rey Bucanero and Laredo Kid in the Best of Mexico 8-pack.  Preorders are now available for Best of Mexico, Legends Ladies Expansion II and Future Shock: Centra Wrestling Federation 2116!  To preorder now CLICK HERE.  Preorders for all game editions will begin mailing by March 31st!