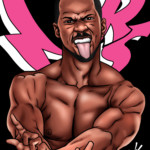 The latest wrestler to join
the Evolve game is the High Flying, Dancing, Singing, Rapping, International Wrestling Superstar….. RICH SWANN!
Whether he is beat boxing his way to the ring, cracking up the crowd with his wild antics, or amazing everyone with his incredible
aerial moves, Rich Swann is sure to entertain. He started wrestling at a young age and made an immediate impact upon his Evolve debut, and soon after formed the powerful group Ronin with Johnny Gargano and Chuck Taylor. These days, he mostly competes in singles competition, but also forms an occasional tag team with fellow high flyer Ricochet. Rich is sure to make a huge impact in every game player's Evolve promotion!