From the TV screen to your Indie Fed…its RJ City!
Categories: Uncategorized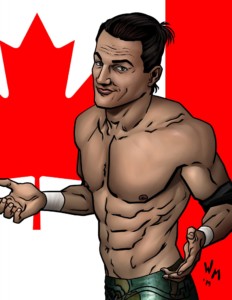 The wrestler in the best of Canada set, may be getting as much publicity from TMZ as he is from the Indie wrestling world, its the handsome and charismatic RJ City.  RJ has never shied away from a TV camera, being on kids TV shows as a youngster and now having his wrestling performances syndicated in over 100 countries.  He gained some recent notoriety as an opponent and reluctant tag team partner of Hollywood's David Arquette.  RJ is fond of Hollywood, but less so the stars of today vs. the stars of 40 years ago.  Regardless he will make a fun addition to anyone's indie fed.
RJ City joins Teddy Hart in the Best of Canada 8-pack coming in late March.