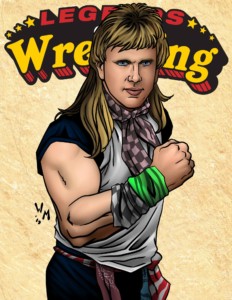 Look out Midnight Express!  Here comes your biggest rivals!
That's right, debuting in the Legends game this holiday season is one of the most popular tag teams in history, Ricky Morton and Robert Gibson, the Rock 'N' Roll Express!  The 80's heart throbs tore up the wrestling scene in the southern US in the 80's.  Their clashes with Jim Cornette and the Midnight Express are legendary, as are their matches with Cornette's Heavenly Bodies in the early 90's.  Now Legends fans can recreate both feuds in their feds!
Ricky Morton and Robert Gibson are part of Legends: Expansion Pack I which is available for preorder now!  The 12-card set can be ordered HERE as well as the Special Edition manager 2 pack featuring Jim Cornette and Paul Ellering which is available HERE.  Both of these items are also part of the 2017 Holiday package, which also include Ring of Honor Top Prospects and FTR Set 2, which can be ordered HERE.  All games begin mailing on December 14th.