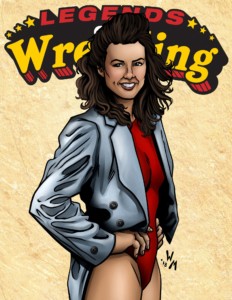 This Legendary Ladies expansion set rocks and it's nearly here!
Rockin' Robin will bring her thrilling style to the new Legends expansion pack and it'll liven up your fed! Robin is a multiple times ladies champion in several real-life promotions as well having a popular stint wrestling in Japan. She has feuded with other female wrestlers in this expansion pack such as Sherri Martel and Judy Martin. Who will be the ladies champion in YOUR fed?
Hey, as a special touch you can also take out her card, play America the Beautiful in the background, and pretend she's singing because she opened a wrestling show by singing this song!
As if our sneak previews aren't enough to convince you that you need this game pack the full roster is: Rockin' Robin, Princess Victoria, Sherri Martel, Judy Martin, Leilani Kai, Tina Moretti, Jazz, and Nora Greenwald.
Legends: Ladies Expansion is now available for preorder HERE.  Also available now is a Limited Edition card for Texas Legend Johnny Mantel HERE. These items will begin shipping by the end of February so ORDER NOW!