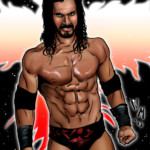 Before exploding as a world-wide wrestling superstar, TYLER BLACK was first a Legend in Ring of Honor! Now the
former ROH World Champion and
ROH Tag Team Champion is back in black in the ROH Legends of Honor 6 pack!
Relive the epic story of the Age of the Fall taking over Ring of Honor when TYLER BLACK joins Jimmy Jacobs and Necro Butcher in the ROH Wrestling Card Game! Guide Tyler Black to the ROH World Championship in your fed promoter! Can your fed survive GOD'S LAST GIFT and PHOENIX SPLASH?
Legends of Honor will start mailing on December 16 after the EXCLUSIVE EARLY RELEASE at Final Battle on December 14! You can pre-order on Black Friday, which is November 29. Watch for more teasers in the weeks ahead!