ROHonline: Expansions and Reduced Starter Set on Sale Now!
Categories: Ring of Honor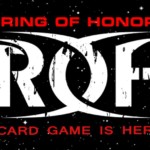 Ring of Honor joins our roster of online games and you won't want to miss
ANY of the action! For a limited time you can get the Starter Set for a reduced price of only $19! This offer ends on Dec 5 so if you don't have the starter set online go for it! Keep watching for our new FINAL BATTLE 8-pack which is due in December. We're hotter than ever, don't miss anything! For more info about ROH online games go here!