Samantha Heights Joins the Shimmer Game Roster!
Categories: Uncategorized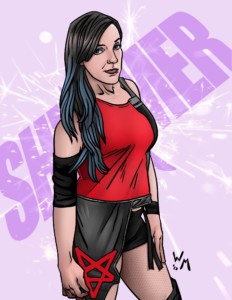 The latest name to join the Shimmer game roster is one of the brightest prospects out of the midwest, Samantha Heights.  Samantha was trained in the OI4K wrestling academy by Dave Crist, so obviously she has no problem taking daredevil-like risks when she needs to!
Heights made her Shimmer debut back in June 2016 tagging with Crazy Mary Dobson, but since then has wrestled only in singles matches.  Although her win-loss record hasn't been the best, she has boosted her name by going toe-to-toe with some of the best women' wrestlers in the world like Kimber Lee, Nicole Matthews, Allysin Kay and Cheerleader Melissa.  It's only a matter of time before she gains the experience she needs to become a major force in the Shimmer ring.
Samantha Heights joins Hudson Envy in this 5th edition of the SHIMMER game.  Be watching in the coming weeks for more names in SHIMMER Volume 5!  The game will be available in early November and also at the SHIMMER tapings in Chicago on November 11-12.