The Worldwide Desperado Returns to the CZW Game
Categories: Uncategorized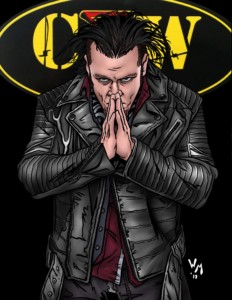 For a couple years CZW was without one of its most dynamic performers, but at Cage of Death 2015 the Callihan Death Machine made his triumphant return!
Sami Callihan had a period away from the independent wrestling circuit, but since his return has been taking it by storm and traveling far and wide on his quest to be known as the Best Wrestler in the World.  The Ohio Native has made waves throughout the indies, but of course nowhere is his influence felt stronger than in CZW.  He has once again hooked up with Jake and Dave Crist as part of OI4K, so there is no telling what mayhem this group will inflict on the CZW roster!
Sami Callihan joins MJF in the 5th Edition of the CZW game.  Keep an eye out the rest of October for more names in the CZW 5th Edition game pack.  The game will be released in early November and will be available at the November 11th show entitled Hot Buzz.