Santa Wolf is Sharpening His Claws for the Holidays!
Categories: Company News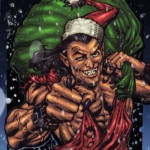 Santa Wolf is getting his sleigh ready for action this holiday season!
The time is NOW to order our awesome new releases including LEGENDS MADNESS, RANDY SAVAGE COLLECTOR'S CARD, ROH LEGENDS OF HONOR pack, and BLACK DEATH 2129 pack!
The official mailing date is December 16 but Santa has threatened his elves with the Savage Face Claw if they don't finish sooner! He's pretty ambitious that Santa Wolf.
But who can blame him? He wants YOU to have fun as soon as possible! And he wants you to get your special surprise that says "thank you" for being a great fan!
ROH Legends of Honor will be available at Final Battle on December 14 in New York (don't miss the show!) and hopefully in people's mailboxes around the same time!
Go to our New Releases page and order everything including stuff you aren't caught up on yet! The games start mailing on December 16 and maybe sooner so you'll have them in time for Christmas! If your order includes games and cards currently in stock you'll have to wait for everything until December 16 to get them all in one shipment unless you order the games currently in stock separately.
Order NOW: we'll be mailing out games in the order we receive them! Don't make Santa Wolf unhappy, you know he has a temper!