Shop of Horrors a Frightening Addition to 80's Mania Wrestling III
Categories: Uncategorized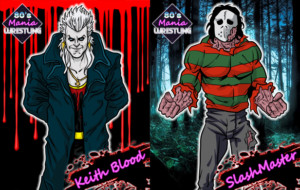 Not only is
your 8MW fed short on Bad Guys but it's also short on tag teams!
And since it's Halloween, we've decided to reveal two ghoulies for the the price of one. Horror fans rejoice! We're proud to present to you: KEITH BLOOD and SLASHMASTER!
Both of these guys are real killers in the ring! But together, they're a SHOP OF HORRORS!
The 80s MANIA WRESTLING 8-PACK – PART III is on it's way in December! Get stoked!
Not caught up on all the 8MW action? Check out the first two sets here: Part I and Part II.