Shynron Will Leap into "Ashes of Chikara" Game Pack!
Categories: Chikara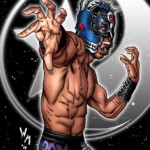 Spirit Dragon Shynron is set to make his debut in the Chikara game card series!
This high-flying physics-bending pro wrestler made his Chikara debut shortly before the close of the promotion in 2013, defeating Chuck Taylor.  Since then he has been amazing crowds in Wrestling is Fun, where he was engulfed in a rivalry with Equadorian Aristocrat Juan Francisco De Coronado.  Shynron eventually won the feud at National Pro Wrestling Day 2014, before assisting the Chikara Technicos in their clash with The Flood.  Shyron is looking forward to showcasing his incredible talents in front of a bigger audience when Chikara makes its return on May 25th!
Shynron is part of the Ashes of Chikara 6-pack, which will be released in conjunction with the Chikara Wrecking Crew 6-pack.  Both game packs will be available at the Chikara debut show in Easton, PA on May 25th, and will be mailed out to everyone the next week.
The excitement for Chikara is mounting and Shynron will be there!