SoCal Val Will Heat Up EVOLVE Ringside in Upcoming Game Pack!
Categories: Evolve Wresting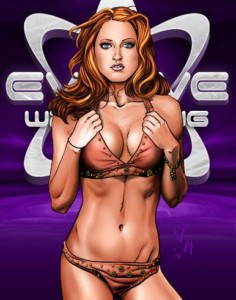 Evolve features the best technical wrestlers in the world and some of the most compelling match-ups in wrestling today. But one of the new faces in Evolve provides something much different. The vivacious SoCal Val is ready to get the attention of everyone in a whole new way. Val
has now taken over the role of manager of the Premiere Athlete brand, guiding the tag team champions Anthony Nese and Caleb Konley. Don't let her pulmonary htn sildenafil pretty face fool you, she has a vicious streak and will do whatever she can to make sure her men hold on to the Evolve tag team titles! Will SoCal Val guide her team to the Evolve tag team titles in viagra canadian pharmacy your fed, or instead choose to manage someone new? Evolve 2 is available to generic cialis cvs pre-order on March 30 and starts shipping April 15. Get psyched! SoCal Val is on the way!