Success at Game On Expo Caps Off a Great Summer!
Categories: Company News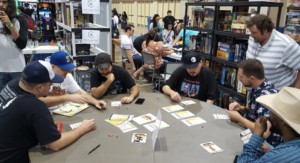 We're taking over!
Filsinger Games stormed into downtown Phoenix for the annual Game On Expo, which is expanding more and more into tabletop gaming. And what better way than with Filsinger Games along for the ride?
We featured two major tournaments on Friday and Saturday. April won a tough tournament on Friday by having Jim Duggan beat Nikolai Volkoff. The action was particularly wild on Saturday with a long finals bout between Randy Savage and Curt Hennig. Savage finally pulled it out for new game fan, Eric!
Tom made some potentially fruitful contacts in Phoenix and there may be some surprises in store in the coming months!
Go to our twitter page for more photos from Game On Expo.
We had a great summer, starting with promotions in Pittsburgh, then Detroit, and now Phoenix. The madness is spreading, there's no stopping it. In our fourth decade we're hotter than ever!