Sumie Sakai Brings the Women of Honor Title to the ROH Game!
Categories: Ring of Honor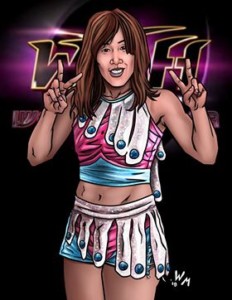 The history of women's wrestling in Ring of Honor begins and ends with Sumie Sakai…literally!  Back in 2002 Sakai was victorious in the first-ever women's match in ROH.  Now in 2018, she won the tournament to crown the first-ever Women of Honor champion.  "Women of Honor's Ray of Sunshine" has built a solid reputation as one of the best women's wrestlers in the world over her 20 year career.  It was based on that reputation that Ring of Honor made her a cornerstone of the Women of Honor division when it was relaunched in 2015.
Sumie Sakai will join Brian Milonas and six other wrestlers in the Death Before Dishonor 8-pack.  The Ring of Honor Death Before Dishonor game pack will be available this December along with the other Filsinger Games holiday releases from Legends of Wrestling and Champions of the Galaxy.  Preorder begins on Black Friday November 23rd.