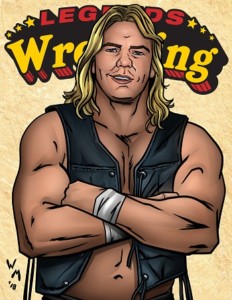 Barry Windham was trained to be a wrestler by his father, Blackjack Mulligan as well as fellow Legend Harley Race.  He spent much of his career as a fan-favorite, achieving success as a singles star but also winning tag team gold.  He had great rivalries with Ivan Koloff and the Midnight Express.
His career took a turn when he betrayed one of his partners and joined up with Tully Blanchard and others under the direction of J.J. Dillon.  He enjoyed some of his greatest success in that group, winning singles gold.  He later went on to be win a widely-recognized version of the World Title.  Towards the end of his career, he teamed up with Curt Hennig to win tag team gold.
Will Windham be a hero or villain?  Will he join J.J. Dillon's stable or go his own route? It's up to you, Promoter!
Barry Windham is part of Legends:  Expansion Pack II along with Magnum T.A., Tully Blanchard, Blackjack Mulligan, Ivan Koloff, Brad Armstrong, Johnny Valentine and the Masked Superstar.   J.J. Dillon is a Special Edition card that is sold separately.  Legends: Expansion Pack II is available for preorder now with the J.J. Dillon Special Edition Card and EVOLVE 5 by visiting HERE. All games are scheduled to begin mailing on April 16th.