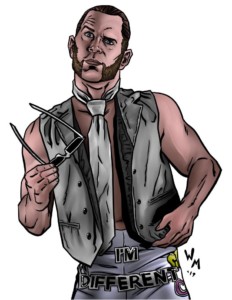 It takes a different kind of individual to pull off mutton chops and a tie with no shirt.  And if there is anything Chet Sterling will tell you its "I'm Different"…and if Chet won't tell you, his tights and theme music will.  Sterling takes pride in his uniqueness and him and is fans are always having fun together, but when the bell rings he is all business.
Chet Sterling is a product of the CWF Dojo and a year after his debut won his first gold with the CWF Mid-Atlantic Rising Generation League Championship.  His winning ways continued in his home promotion holding both the Tag Team and TV Titles simultaneously.  But Chet's biggest accomplishment to date came in September when he beat long time rival Cedrick Alexander for the PWI Ultra J Championship.  After representing the Junior Heavyweights for PWI for nearly a year, he lost the title to his main rival in NOVA Pro Wrestling, Logan Easton Laroux.
While we don't know what is next in the career of Chet Sterling, we do know that he is joining former tag team partner Trevor Lee and rival Logan Easton Laroux in the Pro Wrestling International game edition coming out later this summer.  Keep watching for more updates in the coming weeks for more announcements. You'll love it!