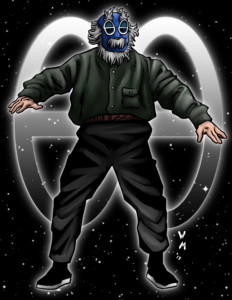 The CHIKARA Aniversario 8-pack will combine some of the classic names from CHIKARA's past with some of the names that will continue to headline the promotion in the future. The first name is one of the most requested CHIKARA classic characters— Darkness Crabtree!
Originally known as Lester Crabtree and later donning the name Darkness when turning rudo, Crabtree is Chikara's resident Octogenarian grappler. He moves to and around the ring very slowly, as a man of his age would be expected to. However, look out if he is able to get a hold of his special pills, which are known to give him a bust of energy…if only for a short period of time. While Darkness Crabtree is CHIKARA's cranky curmudgeon, he was also beloved by fans for his antics.
The CHIKARA Aniversario pack will be at the CHIKARA Aniversario School Reunion Event on May 27th in Hellertown, PA, and will begin mailing everywhere on May 31st!