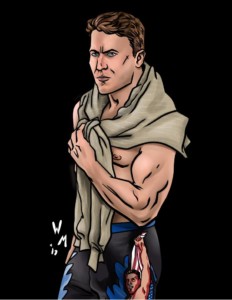 The Pro Wrestling International game pack features wrestlers from 3 promotions and the newest announcement is from NOVA Pro Wrestling out of Northern Virginia.  One of the most dominant wrestlers in NOVA existence is the Champion of the 1% himself, Logan Easton Laroux. Plenty of feud material here!
The aristocrat talks a big game, but to date has also backed it up in the ring.  Laroux won the first-ever NOVA Commonwealth Cup in April, beating the previously undefeated in NOVA Pro Arik Royal in the finals. He then went on a week ago to capture the PWI Ultra J Championship in a ladder match against champion Chet Sterling.  Will Logan continue his dominance over the best that NOVA Pro management can continue to present him?
The Pro Wrestling International game pack will feature wrestlers from CWF Mid Atlantic, Premier Wrestling Xperience, and NOVA Pro Wrestling.  This game pack will debut at the end of the summer so get psyched for more awesome wrestlers to play!