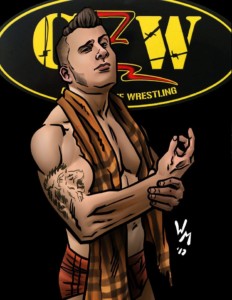 The first name announced for the the 5th release in our CZW game series is the hottest rising star in CZW, and the current CZW Wired Champion, Maxwell Jacob Friedman!
MJF is rich, good looking and talented.  As he likes to say "I'm better than you, and you know it."  He made his CZW main roster debut at Cage of Death 2016 to a shower of boos, as he represents the embodiment of everything the CZW faithful hates.  While many chalked up his conceit to over-confidence, so far he is a man of his word and remains undefeated in CZW.  In May he went on to defeat Johnny Yuma to capture the CZW Wired Championship, a title he has gone on to defend multiple times.  Can MJF's talent continue to carry him further to the top and capture the ultimate prize…the CZW Heavyweight Championship?
Keep an eye out the rest of October for more names in the CZW 5th Edition game pack.  The game will be released in early November.