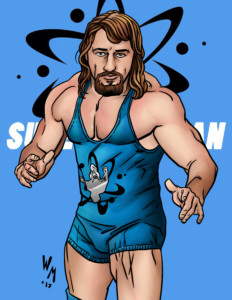 EVOLVE Wrestling had some sad news this week, as one of its most dynamic performers is set to miss significant time due to a recent injury. While fans will unfortunately not be able to watch Peter Kaasa wrestle in an EVOLVE ring in the near future, Filsinger Games fans will be able to continue his career without interruption as we are happy to announce his inclusion in the EVOLVE 4 game edition!
Growing up in South Carolina, Peter Kaasa was a state submission wrestling champion. His pro wrestling style was also influenced by his background in gymnastics and Brazilian jiu-jitsu, as he was able to keep pace with high flyers, while also maintaining a solid catch wrestling and submission repertoire. After working for years in the southern independents, Peter Kaasa made his EVOLVE debut in 2015. He impressed officials enough to take part in the 2016 Style Battle tournament, and has continued making regular appearances in EVOLVE between tours of Japan.
Peter Kaasa joins Ethan Page, Darby Allin and Jeff Cobb in the EVOLVE 4 8-pack, with more names coming each week in March. The game will be released at the WWN Live Experience in Orlando and will begin mailing by April 7th!