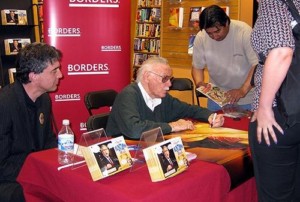 Here comes the 10th Anniversary of Election Daze!
We take a break from regular game programming to celebrate one of the coolest projects Tom ever undertook and that was partnering with his childhood hero and worldwide icon Stan Lee!
Be sure to add this Stan Lee collectible to your collection! This special offer also includes the promotional pin which you can proudly wear to show off your social standing at Washington dinner parties! The book and free Election Daze pin all for a measly $10, so don't hesitate!
For those who don't know, Stan and Tom published Election Daze in 2008 as well as touring to promote the book in New York and California. The book was ranked as #2 "Hot New Release" at Amazon and went on to sell over 15,000 copies.
Dennis Miller called Election Daze, "Absolutely hysterical!"
Each page features Stan's wild and funny word balloons to go with photos of key political and entertainment figures in 2008 including Barack Obama, Hillary Clinton, George Clooney, and the Dalai Lama!
This is a limited offer so don't wait! Go here to order.