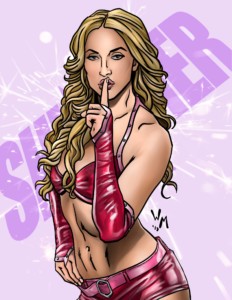 Look out SHIMMER tag teams, a new duo is on the rise and have their eyes set on tag team gold.  Britt Baker and Chelsea Green both made their SHIMMER debuts in 2017 and have already taken the promotion by storm. The duo started their careers on opposite sides of the continent, with Britt Baker starting out in Western Pennsylvania and Chelsea Green starting her career in Western Canada.  Each had some success individually and have made appearances on national television prior to starting with SHIMMER.
Britt Baker made her SHIMMER debut as a singles wrestler, winning her debut 4-way in Orlando earlier this year.  She began teaming with Chelsea Green in the RISE promotion, dubbing themselves Fire and Nice, and the duo continued the partnership during the last set of SHIMMER tapings.  The duo's early success earned them a shot at the SHIMMER tag team champions, and Fire and Nice won the match…albeit by disqualification.  It's only a matter of time before Britt and Chelsea earn another shot at the belts and hopefully the next shot ends with gold around their waists.
Britt Baker and Chelsea Green join Hudson Envy and Samantha Heights in the newest edition of the SHIMMER game.  Watch in the coming weeks for more names in SHIMMER Volume 5!  The game will be available in early November and also at the SHIMMER tapings in Chicago on November 11-12.