The Forever Hooligans to Start a New ROH Tradition!
Categories: Ring of Honor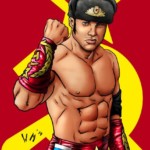 ROH TRADITION runs deep with the next big reveal, the decorated duo of ALEX KOSLOV
and ROCKY ROMERO, the FOREVER HOOLIGANS! The Forever Hooligans made their debut for Ring of Honor at the ROH 11th Anniversary Show, and quickly solidified themselves in ROH tag team tradition by winning the tag team titles! Now the Hooligans debut in the Ring of Honor Wrestling game and look to start a new tradition dominating your fed! Tradition of Honor is set for release on July 12 at GalactiCon in Jamestown, NY. The game starts mailing on July 15 and there'll be some bonus features so keep watching!