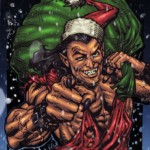 Okay, here comes my favorite time of year. Oh, maybe my second favorite, I love July too.
In July and December we release a plethora of incredible games for our loyal fans!  We spare no effort to make December one of the best months of the year and we want loyal promoters to enjoy the holidays with dice rolling madness!
So let's see what's coming in December…
LEGENDS 13 (not the official name) will be the MOST INTERESTING Legends of Wrestling set yet released. Does that sound like false hype? Contraire mon frere! There will be SEVERAL FIRSTS in this set. But why ruin the surprise? You'll find out! Keep watching every Monday night for sneak previews. In fact the first super cool awesome announcement is coming on November 11!
That's not all! We're going to release a Champions of the Galaxy mini-pack to accompany BLACK DEATH 2129. BLACK DEATH has been a huge hit with our fans and one of the most controversial game stories in GWF history (until 2130 that is!). The BLACK DEATH 6-Pack will feature several female wrestling cards (Taichi and Nova) as well as some other surprises! Three of the cards are "complementary cards" by which I mean they serve another purpose than wrestling. An example would be a manager card or a talk show card, but wait! — I can't give too much away! Watch for sneak previews!
Is there yet more? It's an astounding thought but YES YES YES!
We'll be releasing a RING OF HONOR 6-Pack called LEGENDS OF HONOR featuring classic wrestlers like Claudio Castagnoli and Chris Hero! Keep watching for more news because these are true ROH legends and they'll be incredible additions to YOUR ROH game promotion!
LEGENDS OF HONOR will be released exclusively at Ring of Honor's major event FINAL BATTLE on December 14. THEN LEGENDS OF HONOR AND ALL OF THE ABOVE GAMES START MAILING ON DECEMBER 16, in time for Christmas (if you celebrate Christmas) and if not it'll be in time for you to have tons of fun!
I absolutely guarantee that a MAJOR SURPRISE is coming in one of the above releases and it's a holiday gift to YOU, the greatest game fans in the galaxy!
Oh, and I have a cool announcement for 2014. I'm full of surprises and also a big tease! 2014 is a ways off so let's focus on this holiday season for now!
Until Santa Wolf leaves a piece of coal in Thantos' stocking…