Our new web site is up and running and the timing is perfect! We've got incredible holiday game releases so strap in while I tell you about them!
First there's the CHIKARA TECNICOS 6-Pack which is already available. The new set features DA SOUL TOUCHAZ and they'll add some spice to your Chikara fed! The card art by Werner Mueck is some of the best he's ever done.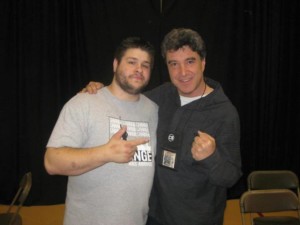 Coming on Nov 29 is our BIG new release: the RING OF HONOR Intro Set featuring 26 wrestlers along with an awesome handbook which features bios along with special match stipulations that you'll love! You won't want to miss your chance to start an incredible Ring of Honor fed or even have a federation war pitting Ring of Honor vs Chikara!
I met Kevin Steen at Synergy (combined ROH and Chikara show) in Chicago last spring and he wrestled some great matches. Kevin is pictured along with me in the accompanying photo and we're both psyched for the ROH game!
That's not all! Coming Dec 12 will see the release of the CHAMPIONS OF THE GALAXY ORIGINALS 6-Pack #3 featuring game legends from the first edition like Massif, Killer Queen, and Vanity. The card art by Darryl Banks makes these remakes a must have!
To top it off will be LEGENDS 12, the latest installment in our Legends of Wrestling Game series. Several names have already been announced like BLACKJACK MULLIGAN and WARLORD! Check the Legends page at this web site for more signings. Not to be outdone, Legends artist Steve Stanley pulls off another stellar performance.
The end result of this plenitude of riches is to prepare your feds for more action and if you haven't started playing our games yet what a great time to start! After 25 years of success Filsinger Games madness is growing more than ever!
Until Kevin Steen (ROH) battles Mike Quackenbush (Chikara) battles Rob Van Dam (Legends) in a Triple Threat Match…