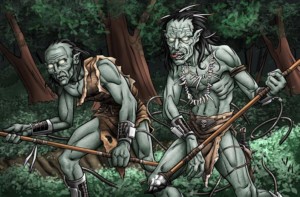 There's a new danger entering the GWF-verse. Hitherto unknown, here comes the first of a new race from a new planet.
And we do mean a NEW planet. In fact a whole new star system which prior to this time has been hidden from the rest of the galaxy by a matter warping shield, basically a technologically-induced black hole. This amazing discovery has taken place in 2131 and shocked astronomers galaxy-wide.
There is an aura of mystery surrounding this new star system and it centers on a planet called Castilex. Not much is known, other than it is ruled by a rigid caste system. At the top is the Dominion, a secret society that no one knows anything about other than their name. The Dominion rules over the Kingdom of Castilex and its neighboring moons. Apparently there are four "classes" and the lowest is the Native class with the highest being the Dominion itself.
Then there's Krud and Ygorr. They are unpolished fighters from the Native class. The purpose of their coming to FTR in unknown, but for them it's an escape from their rigid, slave-status existence on Castilex. Of the two, Krud is the leader. He is cunning and hopes to make a successful career in FTR to escape the confines of Castilex. Ygorr is like a slave to Krud, doing his bidding, scared and disoriented by his new surroundings.
NATIVES ARE RESTLESS is the tag finisher for Krud and Ygorr and it is always initiated by Krud. The move is simple, a double bulldog that works pretty well as a finisher.
Will the Natives be successful in FTR? You'll find out when you order the amazing 8-pack! Go to New Releases now to pre-order!