Senior Official Todd Sinclair Joins Ring of Honor Game!
Categories: Ring of Honor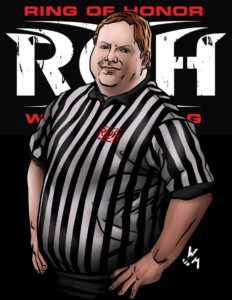 The newest name to join the Ring of Honor game is one that has been synonymous with the promotion for over a decade.  Senior Official Todd Sinclair has officiated more ROH title bouts than any other referee, and is known to call every match down the middle.  This unique card will make the conclusion to ROH main events more exciting and unpredictable, just like the real action that Sinclair is overseeing.  Filsinger Games is pleased to finally have a game card for the man nicknamed "Fat Pants", who is truly beloved by the ROH faithful.
Todd Sinclair joins Flip Gordon, Jay White, Kenny King, and the Beer City Bruiser in the 8-card Ring of Honor Top Prospects game pack.  It is available to preorder right now by going HERE!  It is also available in the 2017 Holiday Package deal along with Champions of the Galaxy FTR Set 2, Legends: Expansion Pack I, and 2 Legends SE cards by clicking HERE.  Games will begin mailing on December 14th.