Tom Filsinger Podcast Interview Provides Sneak Preview of Ring of Honor Game!
Categories: Ring of Honor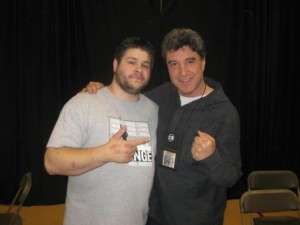 Game creator Tom Filsinger was recently interviewed by Des Delgadillo for the weekly news podcast at ROHWorld, a web site for fans of Ring of Honor.
Tom talked about the new Ring of Honor game including exclusive inside info about ROH game charts and a special match that will be included!
The interview is a half hour and includes other topics such as wrestling and comic books, the history of Filsinger Games, and the state of professional wrestling today. Tom also mentions the Synergy show he attended in Chicago last spring (this is where he was photographed with Kevin Steen).
You don't want to miss the interview so here it is! Thanks to the gang at ROHWorld!