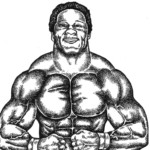 Here comes a rare Legends treat!
Multitalented wrestling legend TONY ATLAS is not only coming to the Legends game but he also drew his own playing card! Click on the image to see the full drawing.
Tom Filsinger met Tony Atlas at WrestleCon earlier this year and was impressed by Tony's art. They made an agreement to have Tony draw his own game card and it's a Filsinger Games first!
"Tony is a great guy," said Tom. "He took drawing his card very seriously, you can tell by the attention to detail.  The original drawing is 12″ x 18″ and it's proudly displayed in my office."
Beware LWF strongmen!  A new contender for "strongest wrestler in the LWF" will make his mark in LEGENDS 13!  A singles and tag team champion across many territories, Tony Atlas will join the LWF roster.  Atlas has teamed with other game stalwarts like Tommy Rich, and has teamed and feuded with Kevin Sullivan.  Does he have his eye on singles or tag gold?
Tony Atlas card art is just one of several bonus features coming in LEGENDS 13 (actual name to be revealed next week!). You can pre-order on November 29 and the game starts mailing on December 16. It's going to rule!