Pro Wrestling International Set is Coming Featuring Trevor Lee!
Categories: Uncategorized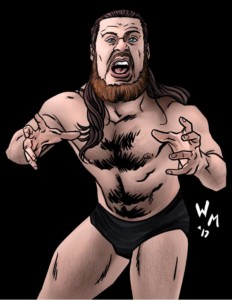 Coming at the end of the summer is a major new independent wrestling set from Filsinger Games.  This set will feature game cards from 3 of the hottest promotions in the Southeastern United States all under the Pro Wrestling International banner.  The promotions represented in this set are CWF Mid-Atlantic, Premiere Wrestling Xperience and NOVA Pro Wrestling.  Each promotion will have multiple cards in this unique game pack.
CWF Mid-Atlantic was represented in the National Pro Wrestling Day pack in 2013 with then Mid-Atlantic Heavyweight Champion Arik Royal.  Now to kick off the PWI Game Set is the current CWF Mid-Atlantic Heavyweight Champion Trevor Lee!  In recent years Trevor Lee has made it big on the national wrestling stage, but he got his start at home in the Carolinas.  Known as the Carolina Caveman for his wild hair and beard, Lee can pull off some dazzling moves in the ring, but often is known to finish off his opponents with a good old fashioned Small Package.
Stay tuned in the coming weeks as we announce wrestlers from PWX and NOVA Pro, along with more from CWF Mid-Atlantic.  It'll be an awesome set to add to your collection! For more on Pro Wrestling International and all its member promotions visit pwipro.com