World Champion Matthew Cross Joins the Olde Wrestling Lineup!
Categories: Company News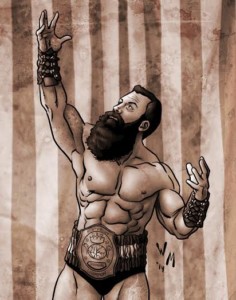 Headlining the Olde Wrestling Extravaganza 4-pack is the World Champion of Professional Wrestling himself, Matthew Cross.  Hailing from the "Land of Lincoln", Cross is world renowned for his strong man feats, including the Flagpole Press, where he holds himself sideways on the ring post before dropping onto his opponent.
Matthew Cross won the World Championship at last year's Extravaganza of Wrestling Exhibitions, when he defeated "Imperial" Robert Evans in a 2 out of 3 falls match.  The irate Evans vows revenge on the world traveling champion, and intends on finding an unstoppable fighter capable of defeating Cross for that championship.  However, Matthew Cross is ready for any challenge that comes his way.
The Olde Wrestling Extravaganza pack will feature 4 playing cards with artwork colored in sepia tone to emulate vintage pictures.  This unique game edition will be available at their second Annual "Extravaganza of Wrestling Exhibitions" on September 28th in Norwalk, OH. It will ship out to game fans in early October so keep watching for info on how to pre-order!