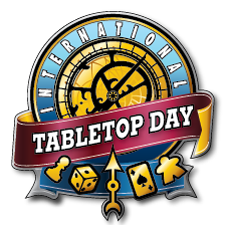 April 30th will be a celebration of all tabletop games and Filsinger Games will be participating in a big way!  There will be Filsinger Games gatherings in different parts of the US, where people can learn to play and join in tournaments.  We hope if you live nearby one you will consider going and participating.  Even if you can't we have other ways to engage with us and the Filsinger Games community.  Check out what is going on!
Social Media Interaction
Throughout the day send us your card results and pictures of you playing on Twitter.  Make sure to tag us @FilsingerGames and use the hashtag #TableTopDay to join in on the conversation.  We will retweet you and share with the rest of the community. And at the end of the day there will be a LIVE STREAM Q & A with Tom (see below)!
Official Filsinger Games Tabletop Day Gatherings
Here are all the live gaming gatherings.  Each gathering will have their own free giveaway cards.
New Haven, CT
Connecticut Festival of Indie Games
Elm City Games / The Grove
756 Chapel Street
New Haven, CT 06510
ct-fig.com
10-4 PM EDT
Pittsburgh, PA
New Dimension Comics – Cranberry
20550 Perry Highway
Cranberry Township, PA 16066
www.ndcomics.com
3-6 PM EDT
Omaha, NE
Legends Comics and Coffee
5207 Leavenworth Street
Omaha, NE 68144
www.legendcomicsandcoffee.com
12-4 PM CDT

Los Angeles, CA
Emerald Knights Comics & Games
4116 W. Burbank Blvd.
Burbank, CA 91505
www.ekcomicsandgames.com
11-3 PM PDT

Flagstaff, AZ
Cab Comics
1471 S Milton Rd
Flagstaff, AZ 86001
www.cabcomicsaz.com
11-3 PM PDT

COTGOnline Tournaments
Can't join us for a live gathering, no problem!  Throughout the day we will have Filsinger games Online tournaments.  Here is the lineup:
9AM – GWF (All eras)
2PM – Legends/Indy
7PM – Anything Goes
For more information on  how to participate, go to the official thread on our message board here: http://filsingergames.proboards.com/thread/16389/online-tournaments-saturday-april-30
Youtube/Google Hangout Live Stream Video Podcast and Q&A
To cap off the day's activities join us for a live video podcast.  Tom, Wiggy and Todd will break down all the day's events.  They will also answer your questions live and Tom will have a special EXCLUSIVE announcement about a summer game release! It begins at 9 pm Eastern!
To view the Youtube stream go here:  www.youtube.com/watch?v=22NzLgtscIM
To RSVP for the event and submit questions go here:  plus.google.com/events/cj29cpos27pafout1qqu9dup20k