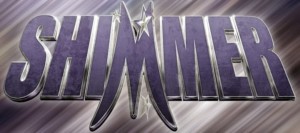 Attention wrestling and game fans! Get ready for…SHIMMER! SHIMMER Women Athletes is the greatest female professional wrestling promotion around! This stylish federation was created to provide a platform for the best female wrestlers around the world to display their talents — and now these awesome ladies are headed your way!
The SHIMMER game edition will include 16 women wrestler cards, allowing you to run your very own stand-alone ladies fed! It's a great companion to our Ring of Honor game. ROH has recognized SHIMMER titles and the belts have been defended at ROH events.
Stay tuned as more news about the SHIMMER game edition is announced in the weeks leading up to release! We'll also be offering sneak peeks at card artwork!
The SHIMMER Women Athletes game edition is scheduled for release in March 2013! Get pumped!