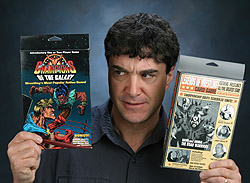 TABLETOP CARDS AND DICE GAMES
Filsinger Games is a company founded by creator, writer, and owner, Tom Filsinger. The company produces and markets tabletop cards and dice games as well as digital games and printable PDF games.
Champions of the Galaxy features an action-packed fighting federation on a galactic scale featuring super heroes, aliens, zombies, and much more. There are over 30 expansions  featuring  more than 200 characters and game cards.
Filsinger Games also releases licensed products with partners such as Ring of Honor, Chikara, Championship Wrestling of Hollywood, and Combat Zone Wrestling.
A PHENOMENON IS BORN
Champions of the Galaxy was first advertised in a national magazine in the summer of 1986. It was an instant success and the second game edition was released in 1988. Regular expansions have been released every year since then with no end in sight as game fans watch and participate in the unfolding mythology of the GWF! Over 100,000 games have been sold worldwide.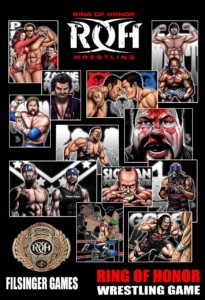 Champions of the Galaxy was released as an online simulation in 2007 giving the game an exciting new platform. The digital version provides unique features for game players like a stat tracker and match simulator. This was followed in 2010 by full color playing cards as the game continues to grow and expand.
Tom's "mission statement" for Filsinger Games is pretty clear. In Tom's own words, "Champions of the Galaxy is more than just a game. It's a state of mind. Champions of the Galaxy isn't about corporate hype or mindless entertainment. The GWF is a very real place to me and to those who play the game."
In 2001, Filsinger Games announced the release of a new Legends of Wrestling Card Game featuring real-life wrestling superstars. The first playing card featured WWF legend, King Kong Bundy. Filsinger Games released their Legends of Wrestling Card Game  introductory box set in January, 2003. Regular expansions in the Legends series have followed.
Another development was the release of the Legends of the Future series devoted to independent wrestlers working outside of major federations. Licensing partnerships followed with several popular wrestling federations including Chikara in 2011 and Ring of Honor in 2012. Others have also been added including Combat Zone Wrestling, Shimmer, and Championship Wrestling from Hollywood with more to come in 2014!
Filsinger Games added a collectible game card for "Macho Man" Randy Savage in 2013. 500 color cards were printed and numbered making them true wrestling collector's items!
According to Tom, "It's a thrill to work with real-life wrestlers and wrestling federations, they are incredibly great partners. Our goal is to give wrestling fans the best games on the market and I think we're doing it."
A SUCCESS STORY…AND STAN LEE!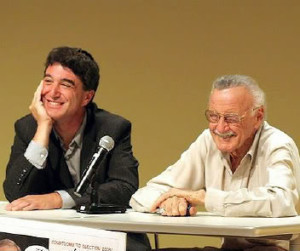 Tom's accomplishments as a creator have not gone unnoticed. He has been featured in articles in magazines such as Entrepreneur. He has also been interviewed on television and radio shows both nationally and internationally, as well as making guest appearances at numerous comic book, game, and wrestling conventions.
In 2008 Tom was approached by Marvel Comics legend Stan Lee to collaborate on a project. The result was Stan Lee's book of political humor called Election Daze which sold over 10,000 copies. Tom and Stan filmed several promotional videos including a video in the "Authors@Google" series in Santa Monica, California. They also appeared together at several book signings including Borders in New York City, Los Angeles Book Fair, and the New York Comic Con. Go here to see Stan and Tom in action!
Stan Lee has said that "Champions of the Galaxy is a really cool game!" Can't beat that kind of praise from Stan the Man!
Tom has also worked closely with many professional wrestlers including Ted DiBiase (pictured below), Jimmy Snuka, King Kong Bundy, Hacksaw Jim Duggan, Buff Bagwell, Greg Valentine and Nikolai Volkoff. He is also a friend and partner with Julie Newmar, the legendary actress who portrayed the Catwoman on the Batman TV show.
Tom celebrated 20 years of success in 2005 by releasing his first book as an author called The Dark Menace of the Universe. The book is a memoir on creativity and tells the inside story of creating Champions of the Galaxy, Legends of Wrestling Card Game, and other creative projects. In Tom's words the book is "a rallying cry for creative Dark Menaces everywhere."
Stan Lee lent his support once again with a glowing review of the book: "Tom makes every page of this absorbing memoir a thought-provoking reading experience."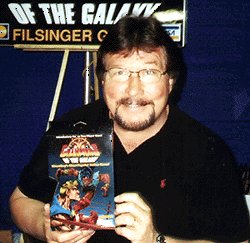 Tom will be releasing a new book in 2014 based on his observations during a two-month road trip across the country from New York to Los Angeles which took place in 2011. The book is called "Shadows on the Road" and follows Tom's attempt to turn Champions of the Galaxy into a movie franchise!
For more information about The Dark Menace of the Universe go to Amazon.com.
THE FUTURE IS BRIGHT
Tom founded a third company in 2010 called Dark Menace Productions, which is an umbrella company that includes Filsinger Games and Filsinger Publishing.  Tom will be seeking partnerships and licensing opportunities to expand the creative franchises he has created and new ones he will create in the future.
Tom has a Master's Degree in Social/Personality Psychology from Northern Illinois University. In his secret identity, he is a mild-mannered professor of psychology at Jamestown Community College. Tom has a wife, Leslie, and four children, Alex, Keri, Dana and Holly. They currently reside in Jamestown, New York.
There is no stopping the growth of Filsinger Games and Tom's ultimate goal remains nothing less than leading loyal fans in taking over the galaxy!
For information about appearances or an interview contact Tom by email at: tom@filsingergames.com.