What Does Everybody Want? What Does Everybody Need? Al Snow is in Legends!
Categories: Legends of Wrestling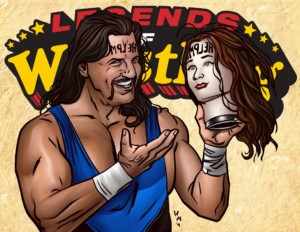 The next name for Legends Expansion Set 4 is another extreme wrestler ready to join your Legends fed, Al Snow!  Although, unlike the Sandman he isn't known for bringing a Singapore cane to ringside, but rather a mannequin head.  Struggling to find his way, Snow began talking to his imaginary friend "Head" and bringing it to ringside, a gesture that the fans loved and still remember fondly to this day.  Snow went on to be well know for his hardcore antics winning gold on multiple occasions.  Since then he has gone on to be a renowned wrestling trainer and mentor to many younger stars.
Al Snow joins Sandman and Ox Baker in the 10 card Legends Expansion Set 4 debuting July 13th at GalactiCon in the Philadelphia area!  For more information on attending GalactiCon visit the GalactiCon page on our website.  The game will begin mailing to other customers shortly after.