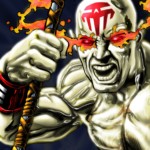 It's the heel turn John Cena may never make.
He was once the GWF's moral compass, but Endgame has finally had enough! His turn to Black Death is potentially a cialis shipped overnight deathblow to the GWF side!
Or is it? Can anyone control the lethal rage of Endgame? His first comments to the galaxy, fans, and his own partners (from the Black Death 2129 handbook) are a warning:
"I am Black Death and I am beyond Black Death! I'll have my revenge against the GWF and against the fans, BUT"—he points to Sur and Bex—"NOBODY controls me!"
He is quick to blame the fans, purchase cialis wrestlers, and his "so-called friends! YOU did this to me. You ALL did this to me! And viagra you will all pay!"
Endgame's first act as a member of Black Death is femaleviagra-cheaprxstore to challenge End of Days to battle! After otc cialis that woe to the Aethran Overmaster, Monolith, and Swarm as his vendetta against former allies will be intense!
Can anyone stop the rage of Endgame and his finishing move, ENDGAME'S REVENGE? The drama builds as Black Death viagra otc 2129 is due for release on July 13 at GalactiCon and begins mailing on July 16!