GalactiCon 2014. July 11-13. 25th Anniversary. The Buck Stops Here.
Categories: Inside Tom's Brain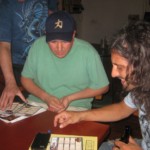 GalactiCon 2013 was fantastic as usual and there's still a full year until GalactiCon 2014 and too early to talk about it—if it was just another GalactiCon. But cialis for sale nz it isn't. It's going to be the 25th anniversary and that is truly something special. 25 uninterrupted years celebrating games from a small independent game company. That's success no matter how you look at it. The dates: July 11-13. Mark them down buy cialis canada on your calendar now. If you've been saying you're going to GalactiCon and
never made it, THIS IS THE ONE. If you've been to GalactiCon before and wanting to come back, THIS IS THE ONE. If you're from another planet and never heard of Earth, games, or Champions of the Galaxy, THIS IS THE ONE! Every year is familiar: Trivia Contest, Auction, Tournaments, Guests, game upsets, incredible matches, socializing with friends (or is it family?), on and on. Every year is different: alternativa al sildenafil In 2013 we met for the first time at the Labyrinth on Friday night and it was a hit! Filmmaker Paul Schermerhorn was filming interviews with game fans for an upcoming documentary spearheaded by Jeff Gutherz. We taped the Filsinger Games podcast in front of a live audience along with co-host Wiggy and legendary game fan and guest, Gavin Loudspeaker. Then there's the small moments, the jokes, the conversations, the sharing, that makes not only GalactiCon worthwhile, but life worthwhile. No hard sell here. The 25th Anniversary speaks for itself. Fix it on your calendar NOW and be done with it. Thanks to all
our fans (I've said it before and will say again), the GREATEST GAME FANS IN THE GALAXY! We know how to mix passion with pleasure and have been doing it for over 25 years! I'm in the trenches with you, writing Champions of the Galaxy uninterrupted for 28 years and as always I look forward to the next game expansion the most! GalactiCon 2014 is dedicated to the memory of printer and producer Bob Hoffa who was there at the beginning and was as loyal as they come. See you there!