It's going to be a Filsinger Games holiday!
Are you interested in starting to play our games? GREAT IDEA! Our three most popular Starter Sets are described below along with a handy link in case you want to order.
Are you thinking of giving the awesome gift of our games to a friend or family member? SUPERB! This will make you extremely popular and they'll love you once they're hooked!
All our Starter Sets include EVERYTHING a new player will need including instructions, dice, charts, game handbook, and of course the cards!
Here's where to start: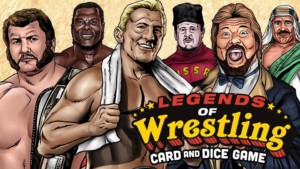 First, there's our LEGENDS Starter Set featuring some of the all-time greats of wrestling history. This would make a great gift for a wrestling fan and especially the popular era of the 1980s. Go here!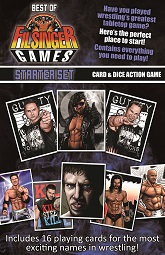 Then there's BEST OF Starter Set for fans of indie wrestling and the current scene. Several stars that are currently active are included in this game. Go here!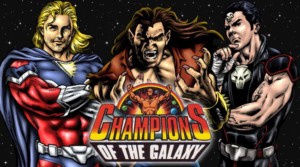 Finally there's our flagship game, CHAMPIONS OF THE GALAXY, the game that started it all! You can't go wrong with our cool Starter Set, it has stood the test of time! Star Warrior, Wolf, and Thantos await you! Go here!
Our official holiday mascot, Santa Wolf, is feeling savage this year! It's a perfect time to spread Filsinger Games madness this holiday season!