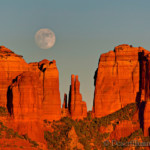 "Go West, young man," said Horace Greeley a long time ago, and I guess it took a while but I'm taking his advice. It's time for change.
I wrote about my coming move to the West Coast in my blog on my personal web page and it's right here. Now it's time to address the Filsinger Games universe since some game fans have expressed concerns about what this means for the company.
I'll tell you in a word it means NOTHING, there will be no lapse, no lull, IN FACT I'm looking forward to GREATER GROWTH for Filsinger Games in 2015! It doesn't matter if I live in Jamestown NY or Sedona AZ or the Sudan or the moon. All that matters is our mechanisms for running the company are in place and will remain in place with no changes!
Hey, it's 2014, and with the computer and the Internet you can be anywhere and still in the thick of things.
As of today (and I haven't even moved yet) all our games ship from New Jersey, so there'll be no change there. My incredible game artists (Werner, Steve, Darryl) live in three different states, no change there either. Team FG (my newly coined expression!) includes writers, artists, online specialists, and distribution managers, and we're already spread out across the country.
Now I'll admit I'm going further away but it doesn't make any difference. I'll still be a computer post away.
More than that I plan to come back to the East Coast on at least an annual basis for Filsinger Games promotional tours. That means game conventions, wrestling shows, comic book conventions, etc. These events will take me to many traditional hot spots like Indianapolis (GenCon), Detroit, New Jersey, Cleveland, and of course Jamestown.
In fact GalactiCon 2015 might still take place in Jamestown, we're not sure yet. But you can bet there'll be a GCon 2015 on the East Coast because the tradition MUST CONTINUE! And I'll be there!
So I'm really looking forward to all this!
Even better, we've got some major plans for Filsinger Games in 2015! I don't want to spill the beans yet, but rather than a step back we'll be taking several bold steps FORWARD! You'll see!
So have no fears loyal promoters! Team FG (which YOU'RE part of) is 4 Life!
Until Blizzard moves to the desert…
TOM